Bored? Try something new. Updated daily, new activity from your area, from Lambeth, London and the world.
There's new advice from the government, written by young people
Written by NHS England Youth Forum and #iwill Ambassadors. The updated official guidance has more detail and clearer language.
Newest stuff to do
UAL CCI Digital Design Club
Want to try 3D digital design, creative coding, machine learning and more. Join artists, technologists and UAL students at CCI's YouTube channel on Thursday 4 June by signing up here. Check them out on Instagram and Twitter.
Mosaic LGBT activity offer
Mosaic LGBT Youth Centre aims to focuses on support, educate and inspire LGBT+ persons aged 13 to 19. They have just released their new online programme.
Groove School - online music production
Life during lockdown means online music production tutorials at Groove School. Learn music production, create and arrange original tracks. New groups start 9,10 and 11 June. Small groups and one-2-one coaching for 8 to 21 year olds. For more info check Twitter. To book info@grooveschool.org
See what Groove School learners have to say:
Drillosophy - music, sociology and philosophy
The first episode of Drillosophy has arrived! Challenge your ideas with this series that uses contemporary music culture, urban sociology and philosophy to help you think critically about the world. From ancient Greek philosophy, to UK drill music. Featuring Brixton drill duo Skengdo & AM. Digital course coming soon from Unlock Lambeth.

Iconic Steps online learning action
Weekly online sessions for 16 to 25 year olds interested in the media industry. Talk to people working in the industry. Find out what jobs are out there. Develop your CV. Learn budgeting and time management skills.
Online courses like 'Mindfulness and the media industry' from 8 to 12 June. More to follow.
To sign up contact Sa-Ra at academy@iconicsteps.co.uk, call her on 07960 896910 or visit their [website]9www.iconicsteps.co.uk). You can also check out Instagram and Twitter. Watch the video and find out what you can do...

HTO Football - the football podcast for positive change
Half Time Oranges bring you the @HTOFootball podcast. First episode features Aresenal legend Bob Wilson. Hopefully they'll move on to decent clubs in future! Available via YouTube and Spotify
Brixton
Reprezent Radio: Lockdown Lock In
The Sound of Young London has 18 brand new shows broadcasting live from the DJs bedrooms across London. Check out Lashawna interviewing SiR talking all things 'Chasing Summer' and giving him a full training session in English slang.

Dwaynamics Boxing
Follow on Twitter and check out Instagram to join the Isolation Fitness Programme. Plus, watch Dwaynamics' World Champion Boxer Dillian Whyte talk to the BBC about how boxing steered him away from knife crime.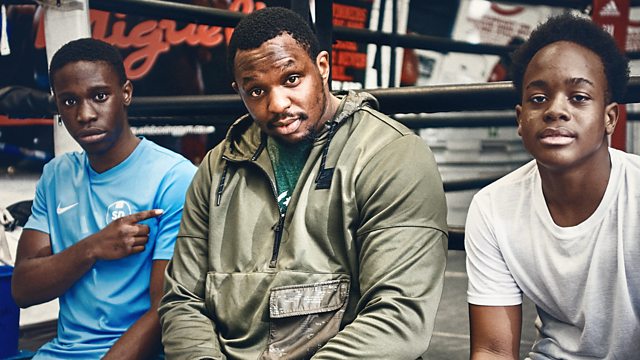 Ebony Horse Club
Horsey online activities via Instagam and Twitter, or just watch Khadijah Mellah winning the Magnolia Cup at Goodwood:

BIG Inspirational football
BIG run live stream BMR classes every Tuesday and Thursday at 10am. To star, DM via Insta or Twitter. Look out for BIG online Elite Football Development too.

Raw Material
Online tuition in music, graphic design and video, plus one-to-one mentoring. Sign up, get support and develop creative skills or email Tim Brown at rawfuture@gmail.com.
Clapham Park
Knights Youth Centre Online Hangouts
Virtual Youth Club, Monday, Wednesday and Friday 6pm, plus support phone line open 2-5pm 3 days a week and one-to-one mentoring support. Email Ryan@knightsyouthcentre.org.uk or Ellie@knightsyouthcentre.org.uk or vist their website
Kennington
Live street dance classes on YouTube
Free live street dance classes form Boury Academy, 2pm Sundays with Kage Douglas. Do digital dance:
Check them out on Instagram or Twitter or Facebook.

XLP
They're running an arts programme via Instagram @artsxlp plus sports and more via @xlpyouth. If you live in Kennington or Tulse Hill they'd love to hear from you.
Larkhall
Code 7 Lock-In Radio Homegrown Lambeth radio from Code 7. Local youth with their own shows via the web and YouTube
North Lambeth
Black Prince Trust
Yoga, boxing and circuits now. Wellness and Football to come. Contact Jason Henley to find out more jason@blackprincetrust.org.uk. Check out the full timetable or look them up on Instagram