Image
Project status: In development Neighbourhood: Brixton
Phase 2 update
We are now preparing to deliver Phase 2 of the scheme, with installation planned for approximately March/April 2023. Proposals for further improvements along the rest of Rosendale Road are currently being developed and will need to be tied in with improvements to the A205 South Circular junction, which is part of Transport for London's (TfL) road network. TfL is responsible for the design and delivery of improvements at this junction, and we are working with them to plan for how their junction works will be sequenced with the overall scheme in a future phase. Further details of Phase 2b proposals will be made available at a later date, via updates on Commonplace and a variety of engagement activities. 
Our proposals include:
The main changes proposed on Rosendale Road with the planned design are:
Public realm improvements; with 35 new trees, 21 new benches, 7 new planters, 55 new cycle parking stands and new areas of greening for sustainable drainage.
Providing 11 new zebra crossings for pedestrians, 5 with parallel cycling provision, to improve walking and cycling conditions along the road.
Approximately 57 informal car parking spaces are being removed along the route and the left turn from Rosendale Road into Turney Road is being banned, to provide the crossing improvements.
A new segregated two-way cycle track along Rosendale Road between Brockwell Park and Myton Road. This will be delivered as a mix of stepped cycle track and parking-protected cycle track.
Removal of the roundabouts at Rosendale Road/Turney Road and Rosendale Road/Park Hall Road, to improve road safety for cyclists and pedestrians.
New blended crossings at all side road junctions beside the cycle track. These will slow down vehicles entering or exiting side roads and encourage vehicles to give way to pedestrians crossing the road. Tactile paving will be provided at all side road crossing points to assist blind or partially sighted pedestrians.
New traffic calming along Rosendale Road with speed humps and raised tables at junction to reduce general traffic speeds
There are also changes proposed at the TfL junction of Rosendale Road and Thurlow Park Road:
A new segregated two-way cycle track through the junction, which will tie in with the proposed cycle track on Rosendale Road.
Two-stage right turns for cycling at the junction, with shared use footways on the south-east corner to accommodate right-turning cycles.
To deliver the cycle track at the junction and the other improvements along Rosendale Road, we need to ban the following turning movements at the Rosendale Road and Thurlow Park Road junction:
The left and right turn for general traffic from the north arm of Rosendale Road.
The right turn for buses from the south arm of Rosendale Road.
You can view plans of the proposed layout below:
The overview plan shows a summary of the proposals along the entire route and where parking spaces will have to be removed in order to provide the walking and cycling improvements.
The proposed layout plans show the proposals in a bit more detail, e.g. the locations where new seating, planters, and cycle stands are proposed.
View visualisations of our proposed designs below to see what Rosendale Road will look after the scheme has been implemented:
Rosendale Road junction with Turney Road:
Image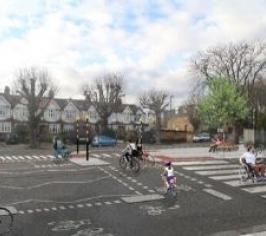 Rosendale Road south of Eastmearn Road:
Image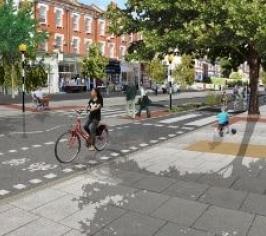 Rosendale Road junction with Park Hall Road:
Image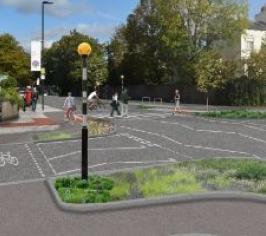 What is a Healthy Route?
A healthy route links people with places they need to get to, such as schools, workplaces, amenities, and shops. A healthy route is convenient, attractive, feels safe and is accessible to all. A healthy route could be a residential street or a main road or a combination of both, and critically motor traffic levels are low, or on busier roads, there is dedicated space that is not shared with general traffic.
We already have significant levels of walking and cycling in Lambeth but we want to keep making improvements so our streets will be safer, more accessible and more attractive for trips on foot, and deliver significant improvements to make cycling a real option for more people.
Some benefits of Healthy Routes include:
Making neighbourhoods where many shorter trips take place better for walking and cycling.
Encouraging more children to walk and cycle to school.
Fewer people making short trips by car, motor traffic levels will decrease which in turn will lessen congestion, and improve accessibility, safety, air quality and well-being for the whole community creating a more liveable place.
Linking neighbourhoods together; new crossings and improved junctions at key locations allow people to get across busy roads that form a barrier to walking and cycling.
Project background
Based on the identified Healthy Route Network and responses to early engagement, we held a public consultation on the preliminary designs in 2016 to find out what you thought. This led to detailed designs being completed the following year and additional consultation with stakeholders and residents. Last year we made significant improvements to the proposals to meet new design standards for cycling schemes released by Transport for London (TfL) in 2018.
We have listened to your feedback throughout this process and would now like to share the current design for improvements on Rosendale Road with you. This reflects the conversations had with the community during the early engagement and your comments on the previous proposals.
For more information on the project history and how we have responded to the feedback received in previous consultations please take a look at our "You Said – We Did" summary below.
You said, we did
You Said:
Many of you thought there was too much traffic on Rosendale Road for an advisory (painted) cycle lane to be safe, and were concerned about cars encroaching on the cycle lane and making conditions more dangerous for cyclists. Some of you were also concerned about the risk of 'dooring' to cyclists in our previous design.
We Did:
Traffic counts confirm volumes are high. We are now proposing a fully segregated two-way cycle track along Rosendale Road, between Norwood Road and Myton Road (mix of stepped and parking-protected). The cycle track will include a buffer zone to protect cyclists from doors opening unexpectedly.
Examples of the two types of segregation proposed are shown below:
Example of a stepped cycle track:
Image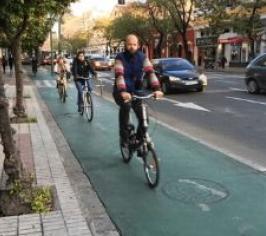 Example of a parking-protected cycle track:
Image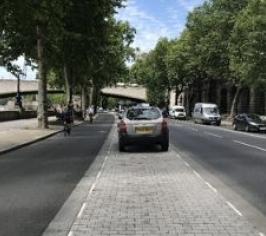 You Said:
Some of you were concerned about high speeds of vehicles along Rosendale Road.
We Did:
We will introduce speed humps and 'raised tables' along Rosendale Road. We will also be narrowing the road width and removing the centre line, which will also reduce speeds.
You Said:
There was some concern around the quality and number of pedestrian crossing facilities along the route.
We Did:
The scheme now includes 11 new zebra crossings, 5 with parallel cycle facilities. We have tried to keep the reduction in parking spaces to a minimum with the proposals, but unfortunately it is necessary to remove some informal parking spaces to deliver the improved crossing facilities along Rosendale Road.
You Said:
Some of you were concerned about safety at the Rosendale Road/ Park Hall Road roundabout.
We Did:
We will remove the mini roundabout at Rosendale Road/ Park Hall Road and replace it with a priority junction, with the priority being given to Rosendale Road over Park Hall Road. This will reduce the vehicle speed through the junction and provide a better and safer service for pedestrians and cyclists without significantly diminishing the capacity of the junction.
FAQs
You can also take a look at our FAQ (Frequently Asked Questions) below for more information on the project and proposals.
What is a blended crossing?
We are proposing to install a new style of crossings at side road junctions called blended crossings. Blended crossings are designed to blend the footway with the road on the junction, thereby encouraging vehicles to slow down when entering/exiting side roads. Blended crossings ensure that the pedestrians have the right of way on the highway as pedestrians can cross the road with ease and safely.
What is a parallel zebra crossing?
A parallel zebra crossing is a new form of crossing that includes a crossing for cyclists alongside the standard pedestrian crossing. Drivers must give way to both cyclists and pedestrians at these crossings. Parallel zebra crossings ensure that cyclists can cross the road safely and with ease as they do not have to dismount from the bike.
Will the proposals cause traffic displacement?
The proposed banned turn will cause some minor traffic displacement. We do not anticipate that this will cause significant disruption to local roads or general traffic but we will monitor traffic flows in the area after the scheme is implemented.
What happened to the Quietway 7 proposals for Turney Road?
Turney Road goes across a TfL junction at Croxted Road and into the London borough of Southwark east of that junction. As only part of Turney Road is in Lambeth we will be working with Southwark council and TfL to determine the best way to improve conditions for walking and cycling on Turney Road. We will update you in due course.
What about the Quietway 7 proposals south of Rosendale Road?
We assessed all of our proposals against the new design standard from TfL, to ensure that our designs will provide the optimal benefits to cyclists and pedestrians. The proposals that are south of Rosendale Road up to the junction of Gipsy Hill/Gipsy Road will remain unchanged as they meet the latest design standards. These measures are due to be delivered on site this year.
What about blind/partially sighted people?
We are installing tactile paving on all of our proposed crossings, including the blended Copenhagen crossings to enable blind/partially sighted people to navigate across the road safely.
Why is parking being removed?
As part of our commitment to ensure that Lambeth's road are safe and accessible for pedestrians and cyclists; we are removing street parking where necessary to install new crossings.
What is a two-stage right turn?
Cyclists often face safety issues when attempting to turn right at a signalised junction. TfL have developed a 'two stage right turn' manoeuvre that enables cyclists to safely turn right at these junctions. The manoeuvre involves; initially pulling slightly left into a designated waiting area, then turning right when it is safe to do so. This reduces the risk of collisions with oncoming traffic. Please view the TfL video, which demonstrates how to correctly perform a 'two-stage right turn' manoeuvre on YouTube: Two-stage turn manoeuvre.
What about the impact on local businesses?
There is evidence to show the positive impact of walking and cycling on high streets, town centres and other shopping areas. The Street Appeal report, developed by UCL on behalf of TfL, studies the impact of improvements to the street environment in London town centres and high streets. The research found that street improvements return substantial benefits to the users of the streets, including local businesses and people visiting the area. For example, the study found a 17% decline in retail vacancy rates between improved and unimproved streets. For the full report and more information on the economic benefits of walking and cycling visit Economic benefits of walking and cycling TfL Report.
Get in touch
For more information
Email