Image
Project status: Completed Cost: £256,492.65 for the clean-up works to the bridge, and £37,000 for the design competition and design fee and installation costs. Neighbourhood: Brixton
As part of the Mayor's High Street Fund project the Council is required to deliver three Brixton street market 'gateway features'. To date two have been delivered the Electric Avenue sign and the Pope's Road bridge sign.
A third gateway feature was needed for the Brixton Station Road market. This presented the opportunity to also look more widely at the Brixton Road rail bridge and a suitable replacement for the 'B OUR GUEST' sign.
Lambeth Council and the Brixton Design Trail ran a design competition where artists/designers were invited to submit concept proposals for the opportunity to design and install a new gateway feature for the Brixton Road rail bridge. The ambition was for the designs to manifest the positive spirit of Brixton, its people, culture and heritage, now and with a nod to the future, in a way that is fresh, bold, modern, joyful and irreverent.
Following a public exhibition of competition entries, and a review by a technical panel, the community judging panel - made up of representatives from local organisations including the Brixton Business Improvement District, Brixton Society, Brixton Neighbourhood Forum, Jason Gibilaro (the artist of the current 'B OUR GUEST' sign), and chaired by Cllr Brathwaite the Lead Member for Environment - met in January 2018 to select a winner. The winning submission was "Style and Pattan" by local, young designers Farouk Agoro and Akil Scafe-Smith. The panel felt strongly in favour of the message of the design being a welcoming message and parting gift 'Come in Love, Stay in Peace'.
The contractors CVU were contracted to deliver the clean-up works to the bridge before the design is installed by specialists OUTSIDE.
Image
Image
Image
Image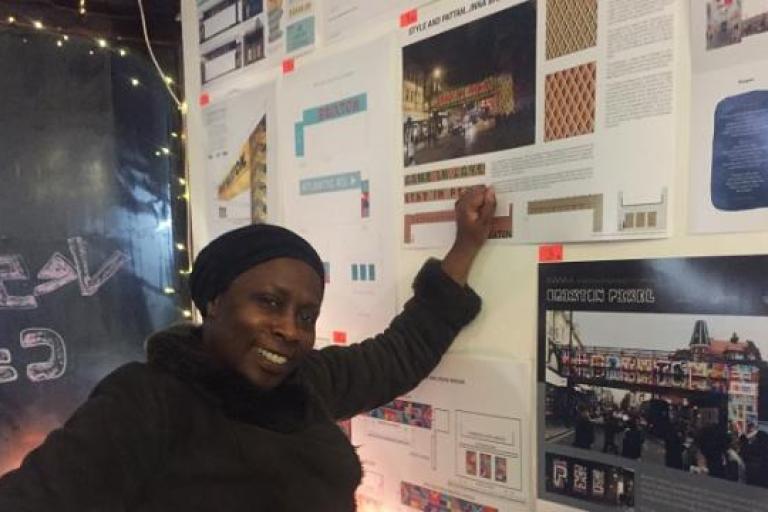 Image
Image
Image
Get in touch
For more information
Email
Location
Address
Address
The rail bridge over Brixton Road and on the corner of Atlantic Road and Brixton Station Road.
SW9 8TJ